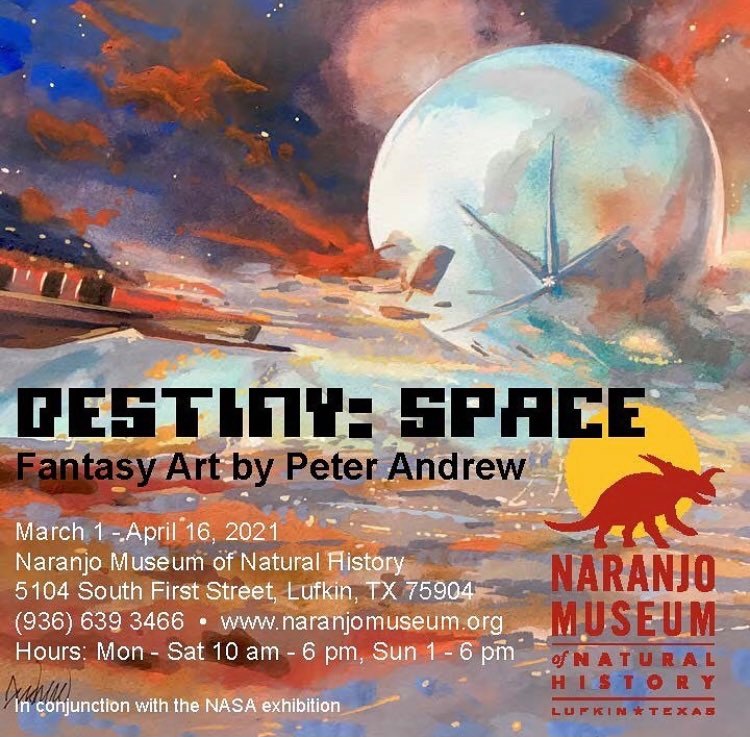 The videogame industry has already explored and colonized the solar system.  Artists imagine what science makes real.
This exhibition features fantasy artworks inspired by the online game Destiny 2 as seen by artist Peter Andrew, in collaboration with his son Carl Andrew. These works imagine a future when the solar system has been completely colonized and forces of light and dark maneuver to gain dominance.
Peter Andrew collaborates on mural dioramas for the Naranjo Museum and also creates murals for clients in health care, education and industry. He is an Art professor at SFA, a Fulbright Fellow, member of New York Society of Illustrators and outreach artist for artists' materials companies Winsor & Newton and Liquitex. Peter has exhibited in over 150 one-person shows including three Presidential Inaugurals at the invitation of the Texas State Society.
Please view more of Peter's creative work at:
Instagram: peterandrewcolors
Facebook: Peter Andrew Landscape Colors