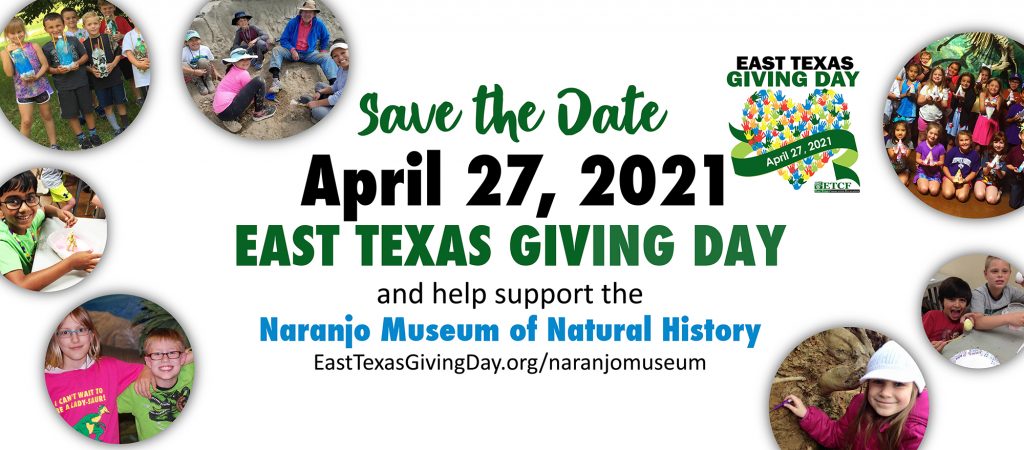 Save the Date for "East Texas Giving Day", Tuesday April 27th and help support the Naranjo Museum Of Natural History.
What is East Texas Giving Day?
East Texas Giving Day is an 18-hour online event that provides critical funding for our area nonprofits. East Texas Communities Foundation is partnering with area nonprofits to give donors from every community in East Texas a chance to raise funds for local needs.
The purpose of an area-wide Giving Day is to bring the region together on one day and as one community, raising money and awareness for East Texas nonprofits. This initiative, organized by East Texas Communities Foundation (ETCF), provides citizens across ETCF's 32-county service area an easy platform to support the mission of local nonprofits that serve our communities.
Raising funds for Naranjo Museum Summer Camps:
Our focus for East Texas Giving Day will be raising funds for summer camps. Improvements are needed for the camp classroom, we need supplies for campers and we are hoping to bring in guest speakers for added learning.
How to donate:
Starting at 6:00 a.m. on April 27th, go to www.easttexasgivingday.org, search for "Naranjo Museum of Natural History" to donate. You can also view the Naranjo Museum profile page at www.easttexasgivingday.org/naranjomuseum. We greatly appreciate the community's help in allowing us to continue our mission through exhibits and educational programs!For questions, contact veronica@naranjomuseum.org. #savethedate#easttexasgivingday2021#naranjomuseum#supportmuseums#community#lufkintx#inthistogether