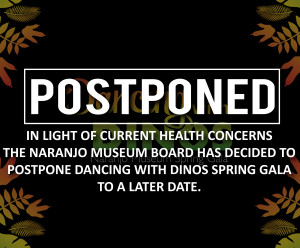 (Press Release:)
The Naranjo Museum's annual spring gala "Dancing with Dinos" which was previously rescheduled for September 12th, will be further postponed until conditions surrounding COVID-19 improve. The board of directors for the Naranjo Museum will be monitoring the situation closely and will set a new date for the gala when it is once again safe to host public gatherings. 
"We are incredibly grateful to those attending the gala for their patience and support as well as to the vendors for being so helpful. Dancing with Dinos serves as a fundraiser for the museum and the reserved tables and tickets have helped us continue our mission through this difficult time." -Veronica Amoe, Museum Manager
The Naranjo Museum of Natural History will be celebrating 8 years of serving East Texas this September and the board and staff look forward to continuing their mission of education with the support of the community. 
The Naranjo Museum is open to the public with health protocols in place. More information can be found at www.naranjomuseum.org.