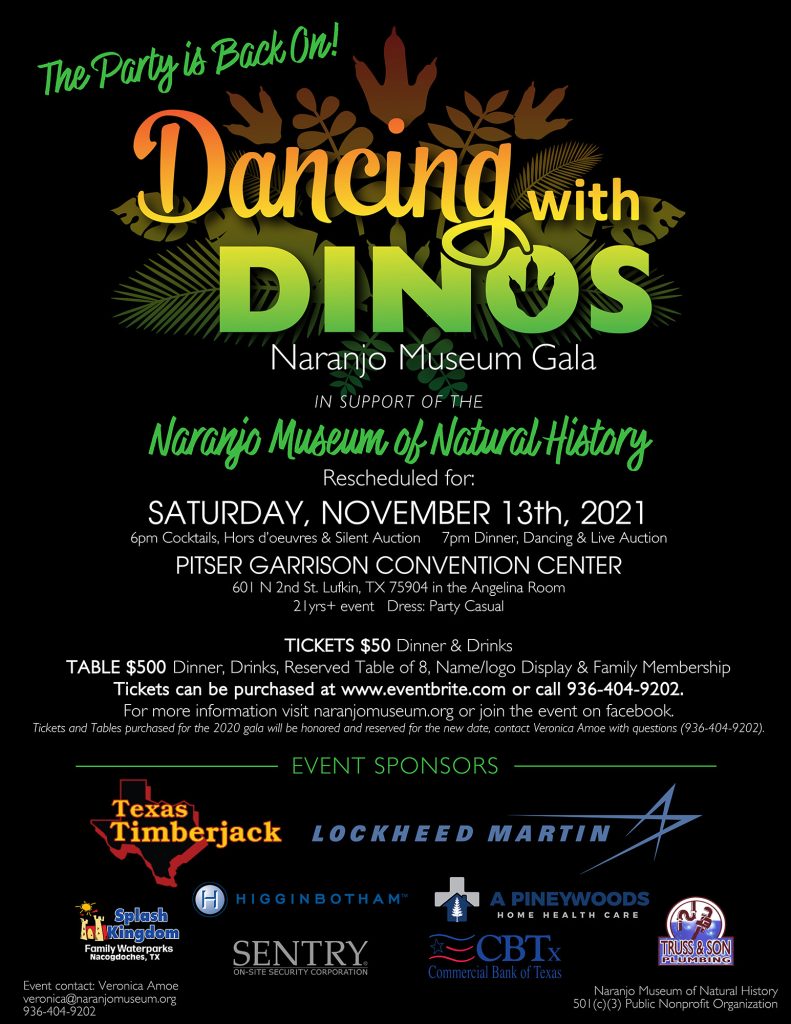 The Party is Back on! The Naranjo Museum announces a new date for "Dancing with Dinos" Museum Gala
The Naranjo Museum of Natural History here in Lufkin, TX is happy to announce the new date for "Dancing with Dinos" Museum Gala. The event, which was postponed in 2020, will now be held on Saturday evening, November 13th, 2021 at the Pitser Garrison Civic Center.
"The Naranjo Museum staff and board are so excited to be moving forward with this event. We are honoring tickets and tables that were purchased for the 2020 gala as well as opening ticket sales for new guests to join. Funds raised through Dancing with Dinos help us develop educational programs, care for the museum exhibits and serve the East Texas community."-Veronica Amoe, Naranjo Museum Manager
Starting at 6pm, Dancing with Dinos guests will enjoy cocktails, hors d'oeuvres and a silent auction while learning about the newest projects at the museum. Following dinner, a short presentation and live auction, guests are invited to dance the night away to a live DJ playing favorite songs from every decade.
Tickets for Dancing with Dinos are now available at eventbrite.com or can be purchased by calling 936-404-9202. The Naranjo Museum of Natural History is a 501(c)(3) public nonprofit organization.
For questions regarding Dancing with Dinos, contact Veronica Amoe at veronica@naranjomuseum.org or visit www.naranjomuseum.org.
Helpful Links:
DANCING WITH DINOS 2019 PHOTO BOOTH GALLERY
DANCIGN WTIH DINOS 2019 PHOTOS
THANK YOU DANCING WITH DINOS SPONSORS!