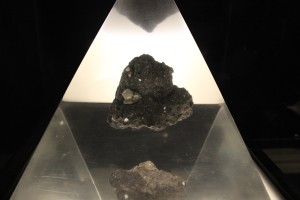 Apollo 14 Moon Rock at the Naranjo Museum
The Apollo 14 Moon Rock or Lunar Sample here at the Naranjo Museum was collected during the Mission to the Moon. Here are some resources to help children learn about the Apollo Mission  Programs at NASA.
Post video quiz:
When did Apollo 14 land on the Moon?
What was the Mission of Apollo 14? (What were they supposed to do on their mission?)
What were the names of the crew members?
What sport did one of the crew members play on the moon?
Which crew member DID NOT step on the moon?
What were the trees called that were planted from the seeds taken on the mission?
Where did the mission land on the moon?
Apollo Mission Activities (click on links to view activities):
NASA Apollo Moon Craft (Grade Levels k-4, 5-8)
NASA Habitat Planning Activity (Grade Levels 5-8)
Sensory Activity: DIY Moon Dust
Further Learning!
Playing Golf on the Moon: How Alan Shepard Hid the Golf Club on the Shuttle 
About the Apollo Rockets and Moon Craft 
Resource Credit: nasa.gov, vivifystem.com, United State Golf Association (visit site here)