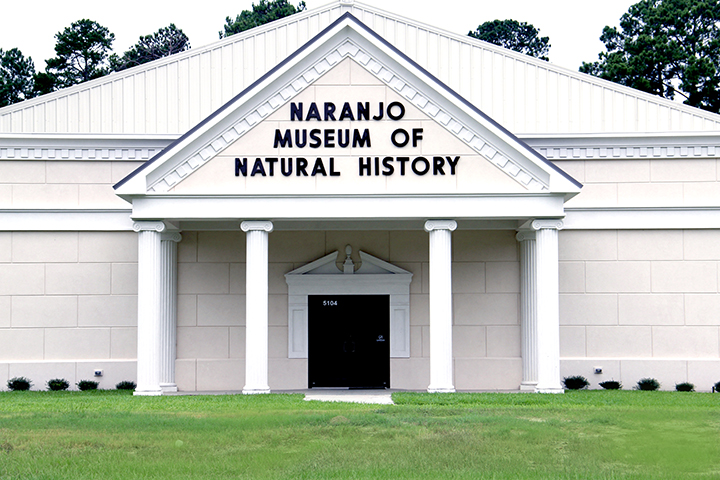 NOW HIRING: Executive Director of the Naranjo Museum of Natural Museum
Are you looking for an opportunity to help grow cultural enrichment within your local community?
Great! The Naranjo Museum of Natural History is looking for you!
The Naranjo Museum of Natural History in Lufkin Texas is seeking an Executive Director. This is a rare opportunity for a community-driven, outgoing individual. We are looking for someone who is truly driven to help the museum grow and gain additional community involvement and funding. We need to see your passion and drive. What can you bring to the team to generate growth and awareness for the Naranjo Museum of Natural History? We would expect that you can balance daily operations with active community involvement and work hand in hand with the Board of Directors to propel museum expansion. With the right person, this role has excellent potential as the museum grows.
Summary of Position: Under the direction of the Board of Directors, the Executive Director is responsible for the overall management and operation of the Naranjo Museum of Natural History. The Executive Director is charged with the implementation of policies set by the Board of Directors, Fund Raising/Annual Gala, Staffing Museum Hours and Summer Camp, Community Outreach, Liaison with Local Schools/Lufkin Arts/Cultural Groups, Marketing, Grant Writing, and Public Relations, Manage Board and Committee Meetings, Graphic Design, Curation of Exhibits, and Overall Duties as they relate to maintaining the Business Operations of the Museum and Gift Shop.
Key Responsibilities: Leadership, Financial Management, Museum Management, Event Management, Public Relations/ Marketing, Grant Writing, Fundraising, and Personnel.
Education Requirements: Bachelors's Degree is required.
Experience preferences that will help you stand out: Fundraising, grant writing, long-standing record of community involvement(now is the time to let that volunteer work shine.) Previous experience in cultural arts.
Please apply by sending your resume and cover letter to Mary Ann Naranjo & Tomas Gonzalez
Mary Ann Naranjo – maryanaranjo@gmail.com
Tomas Gonzalez – tomas.a.gonzalez@bakerhughes.com