Field Trips are a great way to encourage students to study the world around them and allows children to interact with what they are learning in the classroom. When Dr. Naranjo built the Naranjo Museum of Natural History, he wanted to provide a place for the students of East Texas to learn about Science and Natural History that was closer and more accessible.
Field Trip Rates: $5 per child
Field Trips include:
An engaging tour with a museum staff member.
Full access to museum and gift shop
Optional use of classroom for movie, teacher lesson or lunch
Discount admission for parents ($5)
How to Schedule a field trip
To schedule a School Field Trip call (936)-639-3466 or send an email to: info@naranjomuseum.org
Needed information:
Name of school
Grade
number of students
date/time preference
Educational Opportunities
All field trips come with a guided tour of the museum given by one of the qualified staff members.  Guided tours can be customized to work with your lessons in the classroom. Click on the following attachments to see the educational opportunities at the Naranjo Museum and accompanying TEKS.
Field Trip Structure
Field trips at the Naranjo Museum can structure to fit your schedule, number of students and of course lesson plans. Below is a general structure of how field trips are led at the museum. For your field trip, if there are any changes you would like to make, we are happy to accommodate.
Field trips last between 1.5-2 hours.
Bring students in, bathroom breaks, rules and brief introduction
Guided tour
Scavenger Hunt
Self guided exploration for students
Guided Tour
During a field trip to the Naranjo Museum, students are brought in to sit in front of Mary Ann Hadrosaur where we go over rules and a brief introduction to the Naranjo Museum. During this time we also allow teachers and parents to take a group photo. After the introduction, the tour guide will begin the tour with taking a look at where Dr. Naranjo finds fossil and how he knows where to look for fossils. The tour will go through the entire museum and the tour guide will point out fossils and artifact in each exhibit. The tour guide will engage students with questions/answers, topical references and attention signals.
Student-led Museum Exploring
After the guided tour, we encourage students to walk around the museum to explore and see fossils they might have missed during the tour. This can be done by breaking the students in groups with a parent-chaperon, or teachers can take the classes through the museum, or with smaller groups, students are safe to walk around on their own. During this time, students can dig in the fossil dig pits, press buttons for the hologram presentations and draw dinosaurs on the drawing board. The tour guide will walk around and see if students have any additional questions or see if anyone needs help with anything.
Large groups
For large groups of students (more than 50 students) please call the museum at 936.639.3466.
Lunch at the Museum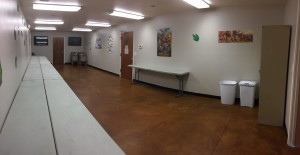 The museum classroom can be used for fields trips to have lunch at the museum. The museum classroom seats 25-30 students at a time. Please notify museum staff prior to your field trip if you would like to use the museum for lunch.
For larger groups of students, we recommend one of the beautiful parks in Lufkin. Most parks include covered picnic areas and playgrounds. The closest park to the Naranjo Museum is Kiwanis Park.
Quotes from Teachers
"The museum is definitely a rare find. It has many great artifacts and replicas and kept the 5th grade Regents Academy class entertained the entire duration of the trip. It may look small but don't let the small size fool you, it really is awesome. We loved the trip and the staff!"-Regents Academy, Nacogdoches 
"I just wanted to thank you on behalf of our Diboll Primary students and teachers for all that you did today.  The kids really enjoyed touring the museum and learning new facts about the different exhibits"-Diboll ISD
"Thank you for a wonderful Field Trip experience.  Our Kindergarten Friends had a great time."-Broadus ISD
"Thank you so much for a wonderful field trip! We all loved it, and I am planning on coming by myself this summer…"-Hudson ISD