Museum Hours
MONDAY-SATURDAY: 10:00am-6:00pm (last admissions by 5:00pm)
SUNDAY: 1:00pm – 6:00pm (last admissions by 5:00pm)
Final Admission: Visitors will need to allow at least 45 minutes to an hour to view all of the exhibits.
Holiday Closings: New Years Day, Easter, Thanksgiving Day,  Christmas Eve, Christmas Day, New Years Eve
Museum Admission
Adult Ticket: $7.50
Child Ticket (ages 4-18): $5.00
Museum Members: Free!
children 3 and under are free (not applicable for group tours)
Group Tours (10+): $5.00 per person (must schedule in advance for group rate
Directions
Address: 5104 South 1st (Hwy 59S) Lufkin, TX 75901
For those traveling South on  59S heading toward Diboll or Houston. You will pass through the College Dr. intersection and will pass a cluster of hotels. The Naranjo Museum will be on the right side and shares a parking lot with A Pineywoods Home Health.
For those traveling North on 59 heading toward Lufkin. The Naranjo Museum is about 7 miles north of Diboll and will be on the left side of 59S after Garden of Memories Cemetery.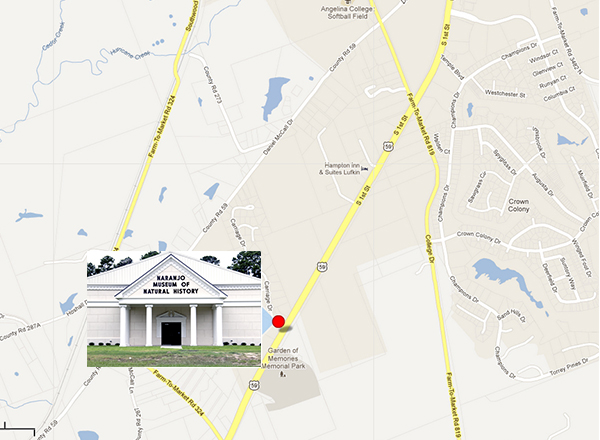 FAQ
Is there a gift shop?
Yes! The Naranjo Museum has a gift shop as you exit the museum. There are gifts for everyone to remember their museum visit: toys, shirts, magnets, jewelry, books and more! There are many small items under $5 and on average prices range from $0.75 to $30. All gift shop purchases help support the Naranjo Museum!
How long has the museum been here?
The Naranjo Museum of Natural History opened its doors in September of 2012.
Are there activities for children?
There are several hands-on exhibits at the Naranjo Museum for children. There are dig pits where guests can dig "fossils" like a real paleontologist. The red buttons around the museum activate a hologram-like Dr. Naranjo who will explain the exhibit you are looking at.
Are pictures allowed?
Yes! You may take as many pictures as you like in the museum, all we ask is that NO FLASH be used, as it will lead to the damage of backdrop paintings.
Why is there an admission cost?
The Naranjo Museum is a 501c3 nonprofit organization.
The Naranjo Museum relies on donations, fundraising, admissions and gift shop purchases to maintain the museum and serve the community.
We appreciate your support!
What does Naranjo mean?
"Naranjo" is the last name of the museum founder: Dr. Neal Naranjo. Spanish: topographic name for someone who lived by an orange grove, from Spanish naranjo 'orange tree'.